ACRE COUNTRY FAIR
Annual Winter Fundraiser
December 9, 7-11PM
Heaven Gallery
1550 N Milwaukee Ave
$40 ($20 for students and ACRE alumni)
You can view the art that will be up for auction here: Country Fair Auction Items.
Or download the ACRE_Auction_Guide.
The Live Auction will start at 10:15pm
The Silent Auction will end at 11:00pm

Proxy Bidding: If you can not attend the event or must leave early, but would like to bid on an auction item, contact us at info@acreresidency.org and let us know the top amount you would like to bid and for what piece(s). An ACRE staff member will bid on your behalf in increments of $25 (minimum bid) until your top bid is reached. You will be notified the next day if yours was the winning bid and receive an invoice from paypal.
*Please note that you are not required to be present to win an auction item. If yours is the highest bid and you leave before the auction ends, we will contact you the following day with an invoice and arrangement for delivery of your item.
Payment and Delivery: You may take home your winnings that night, but you must make payment at that time. ACRE can accept most major credit cards, check or cash. If you prefer to pay for your item(s) at a later time, you can opt to receive a Paypal invoice and arrange delivery.
________________________________________________________________________________________________
If you are unable to attend this event, please consider making a donation.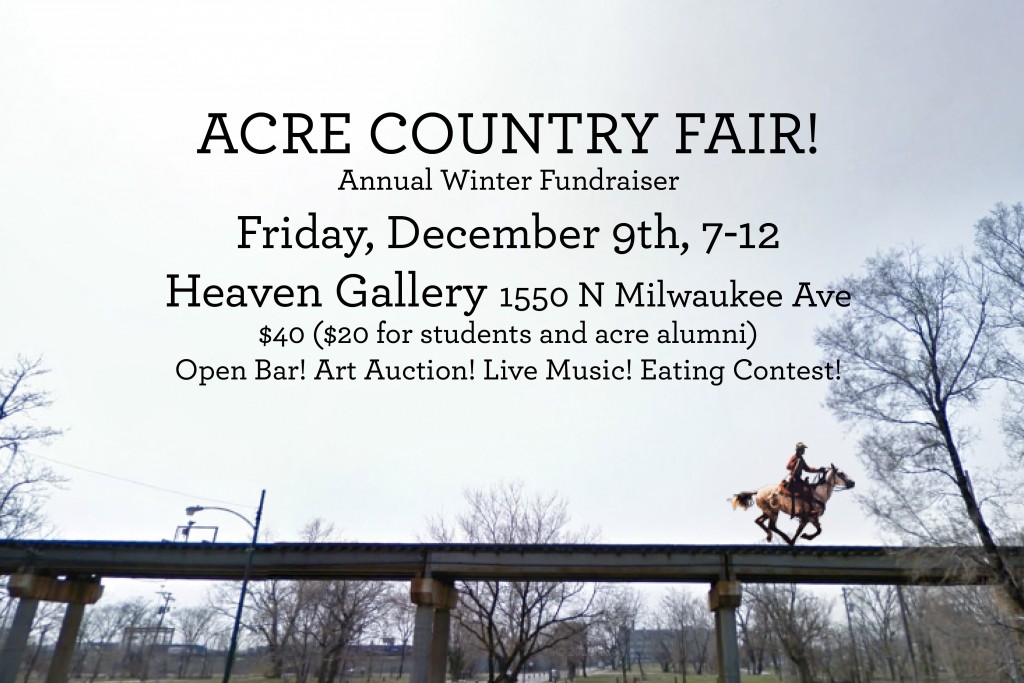 ART AUCTION
Bid on new art works by Chicago artists and ACRE alumni in both a silent and live auction! Featuring work by Adam Grossi, Alex Chitty, Alyse Ronayne, Aron Gent, Ben Driggs, Brandon Anschultz, Bryan Lear, Caitlin Arnold, Caroline Picard, Chris Meerdo, Dan Bradica, Daniel Shea, Jacob Chris Hammes, Jan Tichy, Jennifer Ray, Jeremy Bolen, Jessica Taylor Caponigro, Josh Sampson, Julia Klein, Katy Cowan, Kelly Kaczynski, Kristina Paabus, Laurie Palmer, Leo Kaplan, Matt Austin, Michelle Grabner, Olivia Valentine, Steve Reinke, Tara Hilss, Thad Kellstadt, Todd Diederich, Young Joon Kwak, Zak Arctander, and more! The silent auction will end and live auction will begin at 9:30. Cash, check and most major credit cards are accepted. Art work will be available to be taken home that night.
LIVE PORTRAIT DRAWING
Get a unique portrait solo or with a friend by a talented emerging artist. Participating artists include Betsy Odom, Caroline Carlsmith, Carson Fisk-Vittori, Chiara Keeling-Gonzalez, Lauren Beck, Leo Kaplan, Liz McCarthy, Michael Hunter, Michael Kloss, Nick Wylie, Ron Ewert, and Virginia Aberle.
CORNUCOPIA EATING CONTEST
Contestants compete in teams of two to gobble the most produce, chocolate and other goodies spilling out of five large cornucopias. The cornuopias are fair game too- they're made of bread! Prizes will be awarded for total amount of food eaten, and crowd pleasingest groups.
---
Special Thanks to our Sponsors: