Accomodations
ACCOMMODATIONS
Most residents stay in the sprawling Steuben Lodge, which houses around 40 people and contains a large central area that includes a library with limited wireless internet, breakfast area, computers, printers and scanners for everyone's use, and more.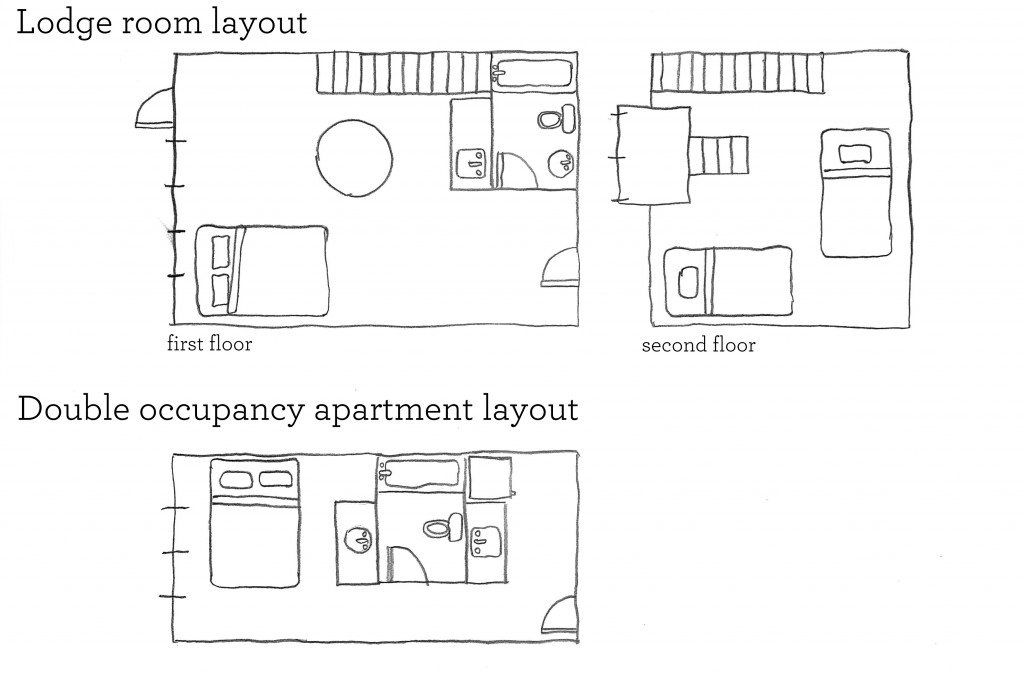 The lodge contains 12 two-story rooms that can sleep three-four at a time, each with its own bathroom and kitchenette. Each room opens onto a porch that can be used for outdoor studio space. Residents who prefer to share a bed with a friend or partner can stay in single-bed apartments in a nearby building. Couples are welcome to come together and share sleeping accommodations. However, unless all work is collaboratively produced, each person should apply individually. To request a shared bed, just note your situation in the special needs section at the bottom of your application or contact us by email once you've submitted your application.
Unfortunately, due to insurance reasons we cannot accommodate anyone under 18, including children of residents. Because of the animals already on the farm, the property owners cannot allow pets to attend.
DINING
Breakfast is provided each morning in the lodge, available from 8-10am, continental style. Residents eat lunch and dinner communally in a large screened-in outdoor dining hall/kitchen. Prepared by a large team of chefs and assistants, each meal is made from locally-sourced meats, veggies, and dairy. Options for vegans and vegetarians are available upon request, and food is prepared specially for those with other dietary restrictions.
Artists with Disabilities:
ACRE is committed to being open and accessible to all artists. We are eager to work with you directly to ensure we will be able to meet your needs. All of our sleeping accommodations and the majority of our facilities are ground-floor accessible. The majority of the common areas including our dining hall/kitchen, main lodge, and library are wheelchair accessible. All common restrooms and a selection of private restrooms within sleeping accommodations are wheelchair accessible. We are prepared to produce or facilitate accommodations such as large print materials, wheelchair ramps, special travel help, special or private sleeping accommodations, and any other actions that our volunteer staff is reasonably able to fulfill.