About
ACRE (Artists' Cooperative Residency and Exhibitions) is a volunteer-run non-profit based in Chicago devoted to employing various systems of support for emerging artists and to creating a generative community of cultural producers. ACRE investigates and institutes models designed to help artists develop, present, and discuss their practices by providing forums for idea exchange, interdisciplinary collaboration, and experimental projects.
Residency: Steuben, WI
Exhibitions: ACRE Projects / 1913 W 17th St / Chicago, IL 60608
ACRE was founded in 2010 in effort to provide the arts community with an affordable, cooperative, and dialogue-oriented residency program. ACRE's residency takes place every summer in rural Southwest Wisconsin. The property, set on 1000 acres of wetland, hills, and farmland, is home to such wildlife as deer, bald eagle, heron, hawk, and rainbow trout, and is strewn with a vast network of rivers and springs. The residency facilities include numerous buildings which provide for expansive communal work spaces, a screen-printing studio, an outdoor wood shop, an art and tech facility, and access to both digital and analog recording equipment. Accommodations are all recently built from salvaged timbers and furnished with individual bathrooms, kitchenettes, and decks. All meals are provided, and are prepared daily using ingredients grown in the surrounding area, which is renowned for its organic and sustainable agriculture and dairy farms.
Residents have the opportunity to expand upon their individual practices and take part in optional programming within a collaborative community. Additionally, visiting artists are invited to conduct studio visits and present lectures, discussions, and workshops. ACRE holds three 12-day residencies sessions per summer, and hosts  25-30 residents at a given time.
Over the subsequent year, ACRE endeavors to provide opportunities and exposure to its alumni. Each resident is given access to an online "flat file", where they can develop customizable pages to present their work and are offered an exhibition opportunity at ACRE's 400 square foot gallery space in Chicago or one of a number "partner galleries." After each year's residency, exhibition openings occur nearly weekly throughout the year. These efforts complement other activities and programming designed to create the conditions for a thriving and enduring arts network.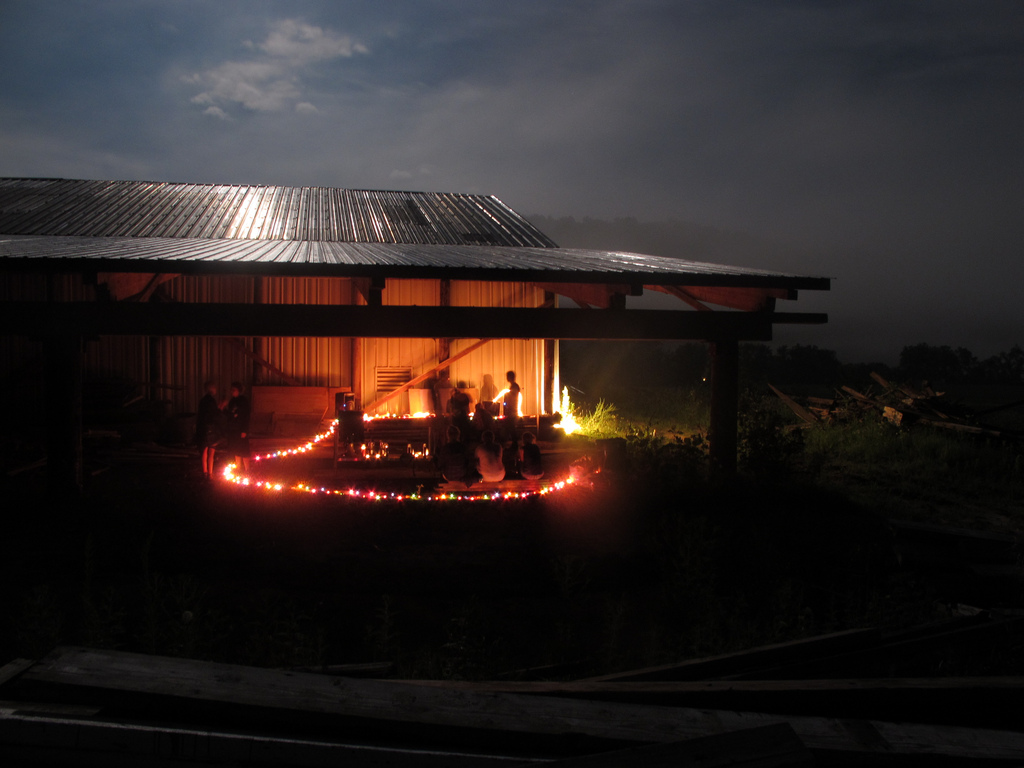 Don't just take our word for it! Here are some things that the press has had to say about ACRE:
Feature Article about ACRE in NewCity
Jettison Quarterly Article about ACRE and the residency it sprung from, Harold.
Interview with ACRE co-director Emily Green on Sixty Inches from Center Blog part 1 and part 2
Interview with ACRE co-director Nick Wylie on Bad at Sports Blog
Local coverage of a softball game at ACRE's 2010 Summer Residency
ACRE named best new art residency by NewCity!
Chicago Weekly article about ACRE and some recent exhibitions.
Caroline Picard reflects on her visit to ACRE for Bad At Sports.
MDW Fair covered by SIFC with some words from Assistant Director, Becca Brown.
ArtSlant article about MDW Fair with a nice ACRE mention.
ACRE's 2011 Country Fair on WBEZ!
Shout-out on Vice blog, Todd's People.
Directors Emily Green and Nick Wylie interviewed on Bad at Sports!
The Chicagoist names ACRE as one of four underrated galleries in Chicago.
Newcity picks Kate Hampel's self-portrait at ACRE's MDW booth as Best-in-Show.
Dana Bassett covers ACRE in Miami.
More Miami coverage from the blog The Wild.
Video interview with Nick Wylie in Miami.
NewCity lists ACRE in Top 5 Art Escapes of 2012.
Jason Foumberg looks back at 2012 and highlights artist residencies for Frieze Magazine.
Alicia Eler interviews Meg Leary about her residency experience on the Art:21 blog!
ACRE curator Alicia Eler included in Chicago Magazine's 6 Up and Coming Curators in Chicago.
Residents and shows:
Kyla Zoe Raefert's interview with Art Burst Chicago
Adam Grossi's show at Johalla Projects featured in The Red Eye.
The Reader covers Todd Diederich's show.
Todd Diederich gets a write-up in Vice.
Courtney Weber's show reviewed by Chicago Weekly.
Heidi Norton's show featured on Make Space .
Art 21 blog post about Heidi Norton's show.
Newcity review of Maggie Haas and TJ Proechel's show at Slow Gallery.
Chicagoist covers Matt Austin and EJ Hill's show.
Gaper's Block reviews New Capital's show featuring residents Jacob C Hammes, Matt Lane, Lauren Payne, and Michael Sirianni
A preview of Paul Erschen's ACRE show at The Hills from Newcity.
Milcah Bassel and Teruka Nimura's show reviewed by Chicago Weekly.
Directors Emily Green and Nicholas Wylie include in Newcity's Art 50: Chicago's Visual Vanguard
Sixty Inches From Center Interviews ACRE Artists:
Erik Peterson
Matt Austin (& part 2)
Becket Flannery and Grant Ray (& part 2)
Mara Baker
Claudia Berns
Riley Henderson
Heidi Norton
Make-space Profiles ACRE Artists:
Liz McCarthy
Biff Bolen
Nick Bastis
Jeff Austin
Marissa Lee Benedict
Nate Matthews
Christina McClelland + interview
Allison Rowe
Alicia Chester
Patrick Costello
Milcah Bassel
Joseph Rynkiewicz
Julie Potratz
Susan Kimball + interview
Nick Lally
Hilary A. Baldwin
Katie Hargrave + interview
Lauren Payne + interview
Angeles Cossio
Kate Hampel
City Souvenirs
Jacob C Hammes + interview
Etta Sandry
Steven Vainberg
Garett Yahn
Matt Nichols
Steven Frost
Georgia Wall
Kristina Paabus
Sarah Mosk
Chris Duncan